Exhibition "Jean Prouvé, l'âme du métal" in the Renzo Piano gallery,
Château La Coste, France, Nov. 2018-March 2019
JEAN PROUVÉ FACADE PANELS

The diverse panels from some of JEAN PROUVÉ's most  iconic architectural realizations give us a full appreciation  of the characteristics of the structural system.
The standardized and combinable panels were devised in numerous versions, some of which could incorporate elements providing comfort such as air vents and  portholes.
Demonstrating the intricate relationship between elements of architecture and his furniture through amongst others their lightness, articulations, mobility and fine-tuning, the facade panels elegantly blend into contemporary interior and thus acquire an almost sculptural quality.
The featured panels from various projects attest to the variety of these elements.
PANEL FROM A TROPICAL HOUSE,
Brazzaville, Congo, ca. 1949

The Tropical houses -demountable buildings which diverse elements could be packed into cargo planes and easily assembled- were intended to address the shortage of infrastructures in West Africa. Too expensive and revolutionary for their time, they have remained at the experimental stage and only three houses were shipped: one was installed in Niamey (Niger), two in Brazzaville (Congo). Sun-shutters insured a pleasant temperature despite the semi-arid climate and the facades were complemented with four types of panels: door panels, window panels, full panels and panels with portholes such as this one.
The houses in Brazzaville served as information offices for Studal, a subsidiary of the Aluminium Français, and remained in the capital for almost fifty years.
The emblematic bicolour panels from the Tropical houses in Brazzaville (painted in light beige on the outside, green on the inside) also feature portholes with double glass (with a blue side to protect from the sun, the other being colourless) and air vents with adjustable openings.  
H. 294.5 x L. 95.5 x D. 5 cm
H. 115.94 x L. 37.6 x D. 1.97 in.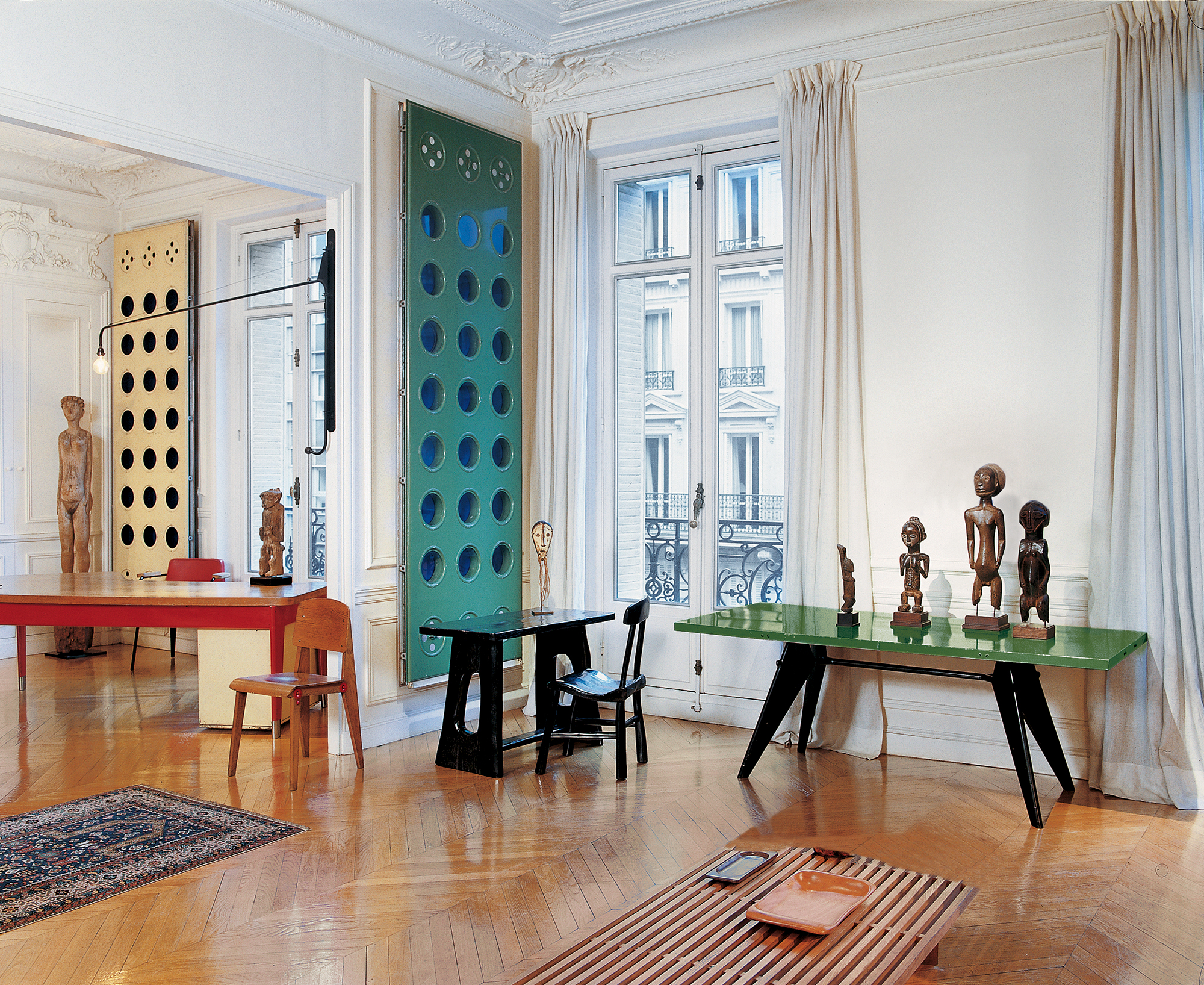 Private collection in Paris
Installation at the gallery
"I imagined a new way of making architecture, a new way of implementing materials. At a time when only buildings with load bearing walls were constructed, I imagined buildings that were structured in a different way. They comprised a structure in metal or in concrete just as a human skeleton, to which a logical addition had to be added: the envelope. The idea was thus to wrap a light facade around the building… As we hang it to the  floor slabs, we assimilated that to a curtain, and we named it: curtain wall."
PANEL FROM THE BOUQUEVAL SCHOOL,
Bouqueval, France, 1950

Taking part in a Ministry of Education competition in 1949, JEAN PROUVÉ conceived an industrializable and mass-producible rural school. He saw this brief as the chance to engage in the mass production of inexpensive buildings with a wide range of possible applications.
In 1950, he is commissioned by the State to produce two school+accommodation prototypes, one in Bouqueval outside Paris, the other in Vantoux near Metz. This led him to hone an earlier system which had already proved itself: a portal frame metal skeleton associated with different kinds of aluminum-sheathed facade panels.
In keeping with the wood used inside, the metal was gloss painted in ''strong and bright'' colours following Ministry orders, selected from the ATELIERS JEAN PROUVÉ's usual palette, such as lemon yellow.
H. 295 x L. 91 x D. 7 cm
H. 9.6 ft. x L. 2.9 ft. x D. 2.76 in.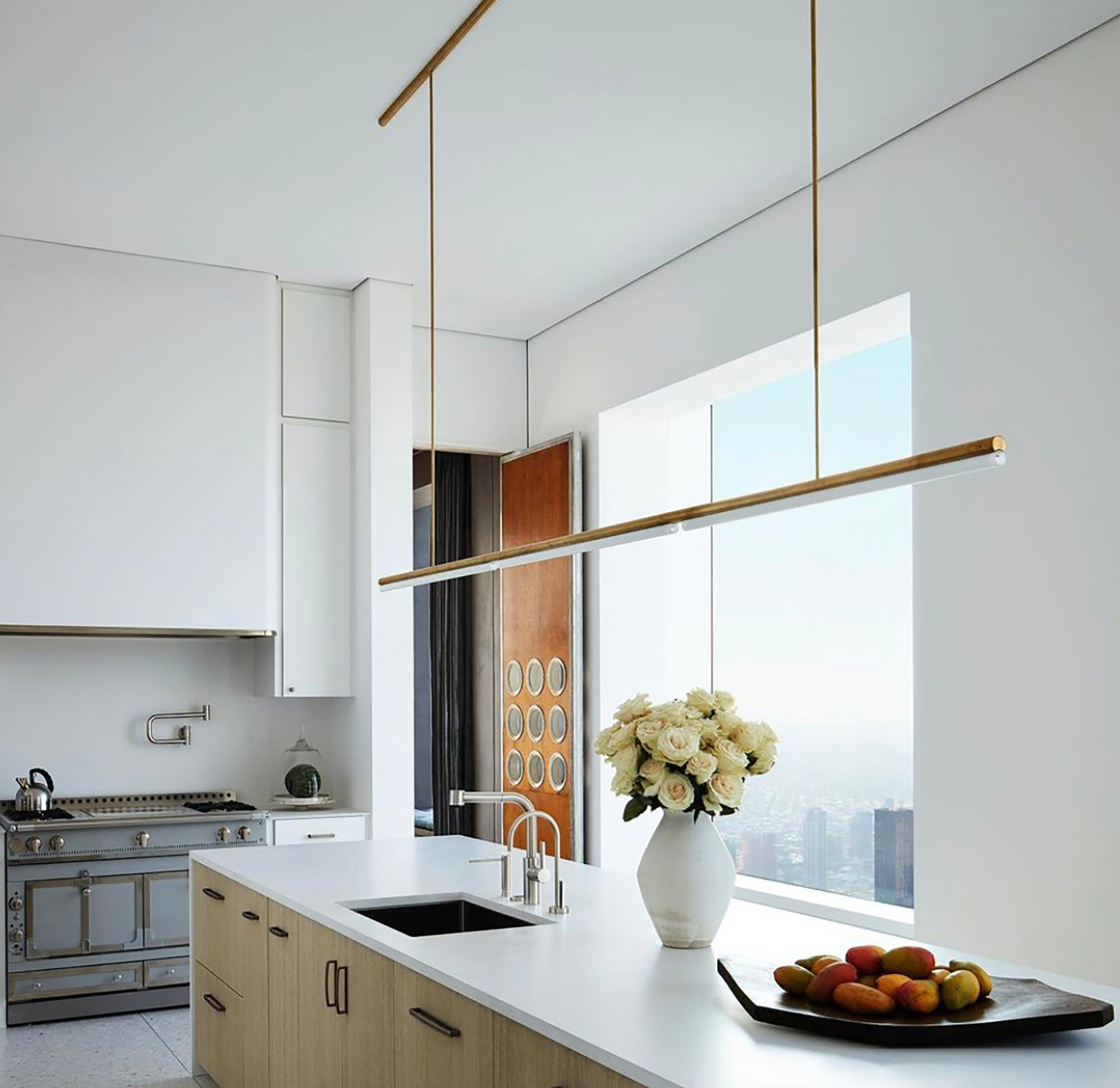 Private collection in New York
DOOR FROM A MÉTROPOLE HOUSE,
Meudon, France, 1951

Assembled on a steep land in the experimental city of Meudon in the Parisian suburb, the Métropole houses presented a lower section conceived in mansonry while the upper part, dedicated to housing, was made of light modular panels. The Métropole houses were the outcome of a reflection first developped by JEAN PROUVÉ in 1938 around the portal frame. Reflecting the enduring nature of Jean Prouvé's constructional concept, the panels for the house were an extrapolation of the components of the one-piece facade embodying all the opening and closing fixtures.
Aluminum brought remarkable technical and functional improvements: the frames of the panels comprised special cast alloy sections onto which a thin aluminum sheet was stretched, allowing a double insulation. The other standard aluminum components, such as the ceiling modules and the main door with its pressed portholes, came from the ATELIERS JEAN PROUVÉ catalogue.
The door is characteristic of Prouvé's functional approach to design, with its porthole windows and the use of aluminum, one of his preferred materials to work with.
H. 234 x L. 87.5 x D. 5 cm
H. 92.13 x L. 34.45 x D. 1.97 in.
PANEL FROM THE FÉDÉRATION NATIONALE DU BÂTIMENT,
Paris, France, 1949

Intending to extend, the Fédération Nationale du Bâtiment entrusted the project to architects Raymond Gravereaux and Raymond Lopez who called on JEAN PROUVÉ.
Prouvé mostly intervened on the façade of the building with panels similar to the ones produced for the Métropole houses in Meudon, which frames comprised special cast alloy sections onto which a thin aluminum sheet was stretched. The 126 elements of the five-storey building -already mounted with windows- were made in the Maxéville factory, delivered by truck then set up at the pace of one floor per day. Each panel was equipped with hooks and bolts and the facade was made of the juxtaposition and layering of several panels of the same type.
The facade of the building is considered as one of the first example of ''curtain walls'' in France. 

H. 299 x L. 145 x D. 13 cm
H. 9.8 ft. x L. 4.7 ft. x D. 5.12 in.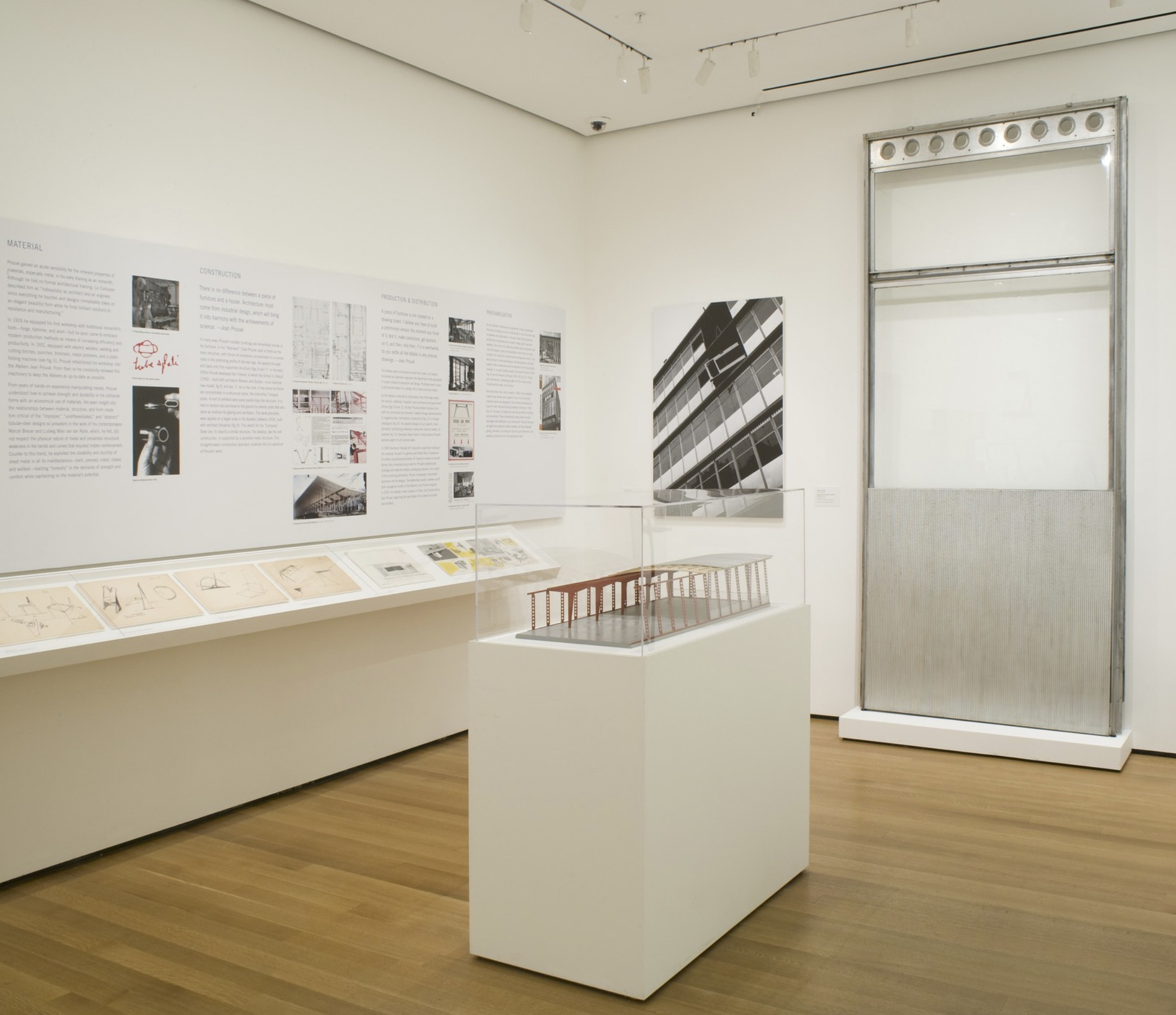 Exhibition "Ateliers Jean Prouvé" at MoMA,
New York, 2008-2009
Exhibition "Jean Prouvé" at the Musée des Beaux-Arts,
Nancy, France, 2012
PANELS FROM THE CIMT HEADQUARTERS,
Neuilly, France, 1963

In 1957, JEAN PROUVÉ is put in charge of the construction department of the Compagnie Industrielle de Matériel de Transport (CIMT) for which he designed mass-produced lightweight buildings and curtain-facade systems.
These latter included double-sided pressed aluminum sandwich panels whose several variants lent themselves to numerous different programs. The panels, although of a larger scale -with a height of more than 3 meters and presenting wide windows- only required two men and a simple winch system to be mounted.