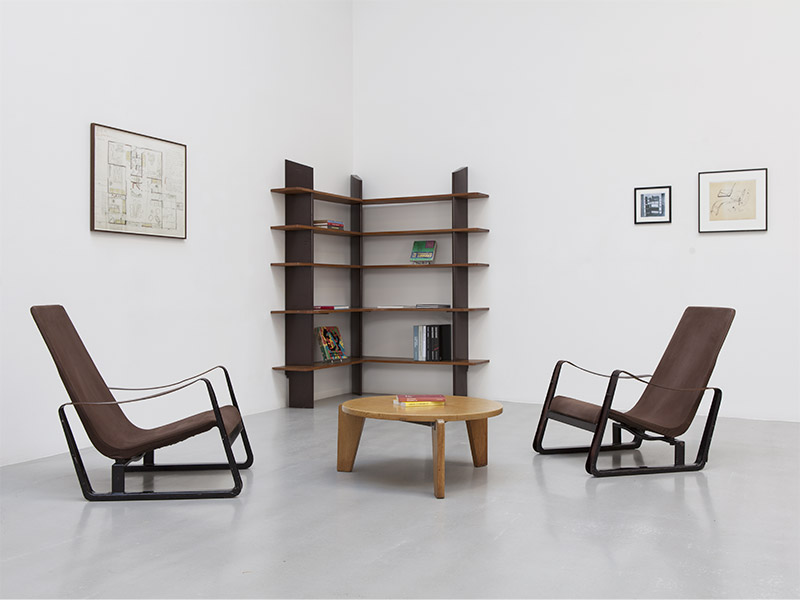 CORNER BOOKCASE
, c.1942
The bookshelf designed for the new Cité universitaire de Nancy met the requirements for durability and economy laid down in the call for tenders in 1930. Like other items of furniture created for the same brief, it comprised a metal frame painted dark red with components in solid polished wood. This self-supporting unit was intended to hang on a wall or stand on the floor.
A few years later the principle was adapted to a bookshelf specially designed for Pierre Chartreux, owner of the Vauconsant firm to which Ateliers Jean Prouvé subcontracted the making of wooden furniture: three triangular bent steel uprights, whose upper edge was cut on a slant, held five angled wooden shelves, one of which was wider than the others and served as a writing table.
"CITÉ" ARMCHAIR, 1930
The easy chair created in 1930 for the new University dormitory in Nancy was the first small-series model to come out of the Ateliers Jean Prouvé. This model drew on Prouvé's designs and prototypes for the mechanically complex, adjustable easy chairs taht were being individually made at the same time. This armchair met the requirements of a different market for « reading » chairs combining economy, solidity and easy maintenance.
GUERIDON BAS, 1942
Although they showed slight differences in size and detailing, the few examples of the guéridon bas marketed during the War already possessed all the characteristics of the model that went perfectly with the « Cité » Armchair.