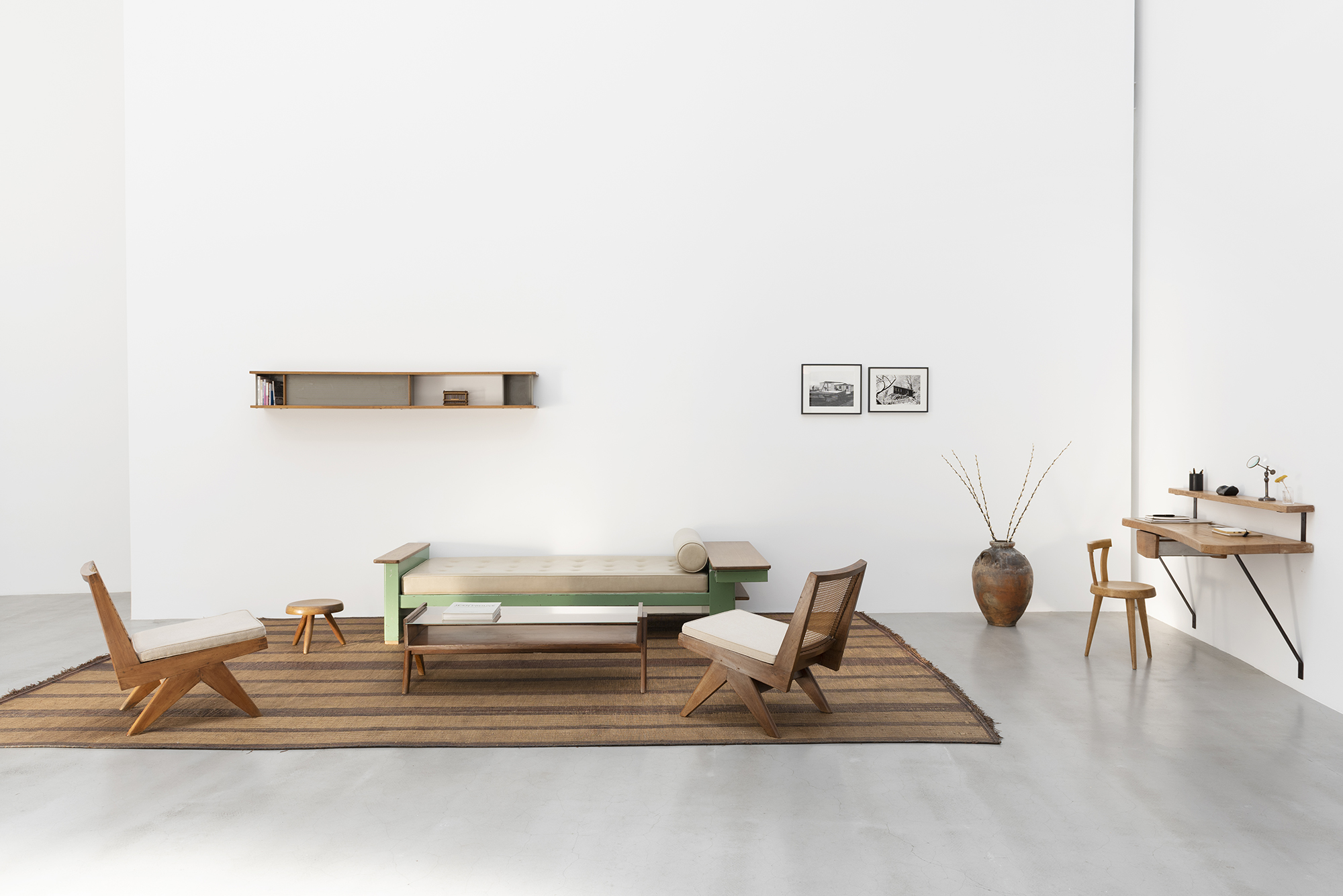 ARMLESS EASY CHAIRS, CA. 1960
These low armchairs designed by PIERRE JEANNERET were intended for various administrative buildings in Chandigarh, India. When India gained independence in 1947, Nehru decided to commission a contemporary architect for the creation of the new capital of the Punjab region, which would become Chandigarh. LE CORBUSIER's project was designed to illustrate the bright future of the new country and he entrusted Pierre Jeanneret -his cousin and lifelong collaborator- with the designing of most of the furniture of the future city of Chandigarh.
These armchairs represent a delightful illustration of the iconic compass style (triangular-section legs) Jeanneret resorted to in some of its designs for the city while the lightly bent backrest allow for a comfortable seating. Jeanneret opted for readily available materials, with an emphasis on the different local species of wood, rot-resistant and perfectly adapted to the vicissitude of the climate, here teak and wicker.
H. 73.5 x L. 48.5 x P. 73.5 cm
H. 28.94 x L. 19.09 x D. 28.94 in.
This Coffee table in teak and glass by PIERRE JEANNERET was also intended for various buildings in Chandigarh, India, amongst which the Legislative Assembly and the University of Punjab. The table consists of a top made of a glass slab resting on a central rail supported by two pairs of elegant compass style legs. 
H. 38.5 x L. 122 x P. 45.5 cm
H. 15.16 x L. 48.03 x D. 17.91 in.
"In Chandigarh, PIERRE JEANNERET was faced with an overwhelming task; without him the city would doubtless not stand now as testimony to the modern."
CHARLOTTE PERRIAND drew inspiration from the stools used by shepherds to milk cows in the Alps for the design of this iconic piece. The simple and pure lines of the three-legged stool in massive wood make it a timeless piece that matches perfectly with contemporary interiors.
H. 27 x ø 33 cm
H. 10.63 x ø 12.99 in.
WALL-MOUNTED BOOKSHELF, CA. 1950
In the 1950s, as CHARLOTTE PERRIAND was working with the ATELIERS JEAN PROUVÉ, she started incorporating bent sheet metal into her designs, creating a series of free-standing wall-mounted bookshelves. This functional and modular shelf in bent sheet steel, wood and aluminum give free rein to imagination, letting the eye wander on an array of empty and full spaces. The diamond point aluminum finish of this piece is particularly elegant.
H. 25 x L. 190 x P. 23 cm
H. 9.84 x L. 74.8 x D. 9.06 in.
(adaptation PIERRE JEANNERET),
HANGING DESK WITH TABLET, CA. 1950-51
PIERRE JEANNERET collaborated with CHARLOTTE PERRIAND for this unique piece specially created for a private house in Brittany. The free form of the hanging desk in ash wood, aluminum and steel illustrate the ideas Perriand and Jeanneret would later develop further.
H. 88.5 x L. 146.5 x P. 49 cm
H. 34.84 x L. 57.68 x D. 19.29 in.
THREE-LEGGED CHAIR N0. 20, CA. 1950-51
The round edges of the three-legged chair by CHARLOTTE PERRIAND combined to the use of natural wood convey a sense of warmth and softness to this piece. The chair stands out for the elegance of its lines and proportions.
H. 67.5 x L. 38 x P. 33.5 cm
H. 26.57 x L. 14.96 x D. 13.19 in.
"I was inspired by bent sheet steel. Bent, pressed, ribbed, then welded. It resulted in sections of equal resistance, highlighted by refined details and the qualities of the finish."
CITÉ BED N0. 456, VARIANT WITH BED HEAD FORMING A DRAWER, 1951
Called the Cité bed after the War, this daybed is the most iconic model of its type to emerge from the ATELIERS JEAN PROUVÉ. It was designed for the tender for the student dormitory at the Cité Universitaire in Nancy in 1930, for which the brief specified the need for a bedside table. Prouvé opted for incorporating the table by using a sheet metal frame comprising two side members between the open-box bent steel panels that held the wooden shelves. Larger than the one on the foot panel and extending beyond the headboard, the bedside table was fitted with a drawer and an intermediate shelf. Apart from a handful of simple variants, this asymmetrical arrangement remained unchanged. 
H. 52 x L. 236 x P. 120 cm
H. 20.47 x L. 92.91 x D. 47.24 in.